Current Watches, Warnings and Advisories for Eastern Bergen (NJZ104) New Jersey Issued by the National Weather Service
NOTE Alert for Eastern Bergen; Eastern Passaic; Western Bergen; Western Essex; Western Passaic; Western Union (New Jersey) Issued by the National Weather Service
EFFECTIVE 2018-01-17T07:53:00-05:00
EXPIRES 2018-01-17T12:00:00-05:00
EVENT Winter Weather Advisory
URGENCY Expected
SEVERITY Minor
CERTAINTY Likely

...WINTER WEATHER ADVISORY REMAINS IN EFFECT UNTIL NOON EST TODAY... * WHAT...Snow occurring. Plan on slippery road conditions, including during the morning commute. Additional snow accumulations of up to two inches are expected. * WHERE...Portions of northeast New Jersey and southeast New York. * WHEN...Until noon EST today. * ADDITIONAL DETAILS...Be prepared for reduced visibilities at times. PRECAUTIONARY/PREPAREDNESS ACTIONS... A Winter Weather Advisory for snow means periods of snow will cause primarily travel difficulties. Be prepared for snow covered roads and limited visibilities, and use caution while driving. The latest road conditions for the state you are calling from can be obtained by calling 5 1 1.
National Weather Service Forecast for: Bergenfield, NJ Issued by : NWS office in New York, NY
Last update at 07:50:20 2018-01-17


| Today | Tonight | Thursday | Thursday Night | Friday | Friday Night | Saturday | Saturday Night | Sunday | Sunday Night |
| --- | --- | --- | --- | --- | --- | --- | --- | --- | --- |
| | | | | | | | | | |
| Snow then Chance Snow | Decreasing Clouds | Sunny | Partly Cloudy | Sunny | Partly Cloudy | Mostly Sunny | Partly Cloudy | Mostly Sunny | Mostly Cloudy |
| Hi 34 | Lo 17 | Hi 33 | Lo 22 | Hi 44 | Lo 23 | Hi 47 | Lo 29 | Hi 47 | Lo 34 |
Current Weather Conditions in the N.Y.C. Region
The map window below is refreshed every 10 minutes
The weather data shown above come from MesoWest & SynopticLabs. They have jointly built API web services using cloud computing resources to provide improved automated access to real-time and archived weather data. Their focus is to provide improved transfer of environmental information for public use as part of the National Weather Service's National Mesonet Program.

The round icons display current temperatures (°F). These stations range from Lewes, Delaware to East Falmouth, Massachusetts. This map was created primarily to help track the rain / snow line ( the 32°F isotherm ) as northeasters move up along the coast. It is also possible to see the cooling effect of sea breezes on coastal sites during the summer. Additional weather data for each station can be accessed by left-clicking on the temperature icon. You can use the map panning controls at the upper left to re-center the map viewport. These data are updated every 15 minutes. If you want to view this weather info in tablular form, click on the MESO WEST TABLE button located in the right sidebar.
The Daily Weather Map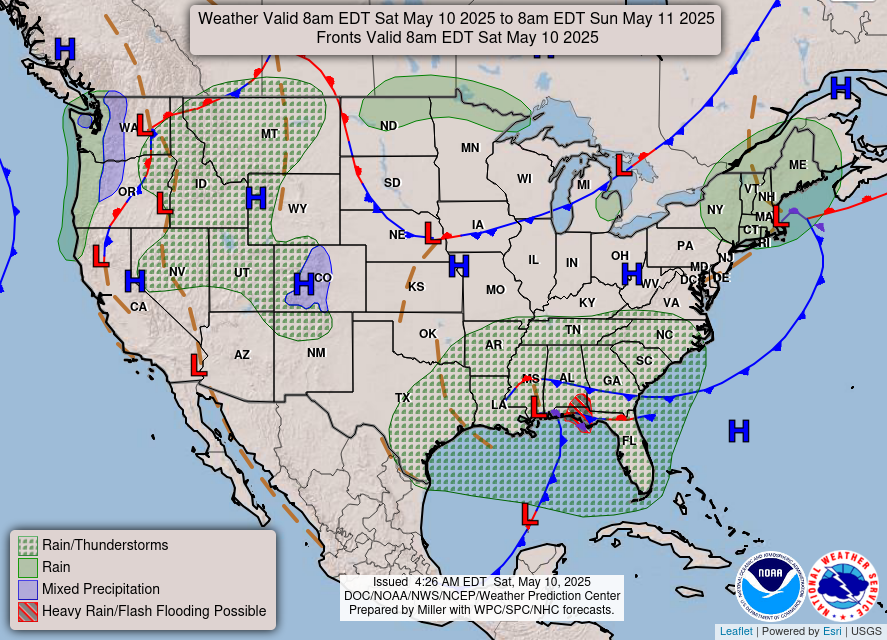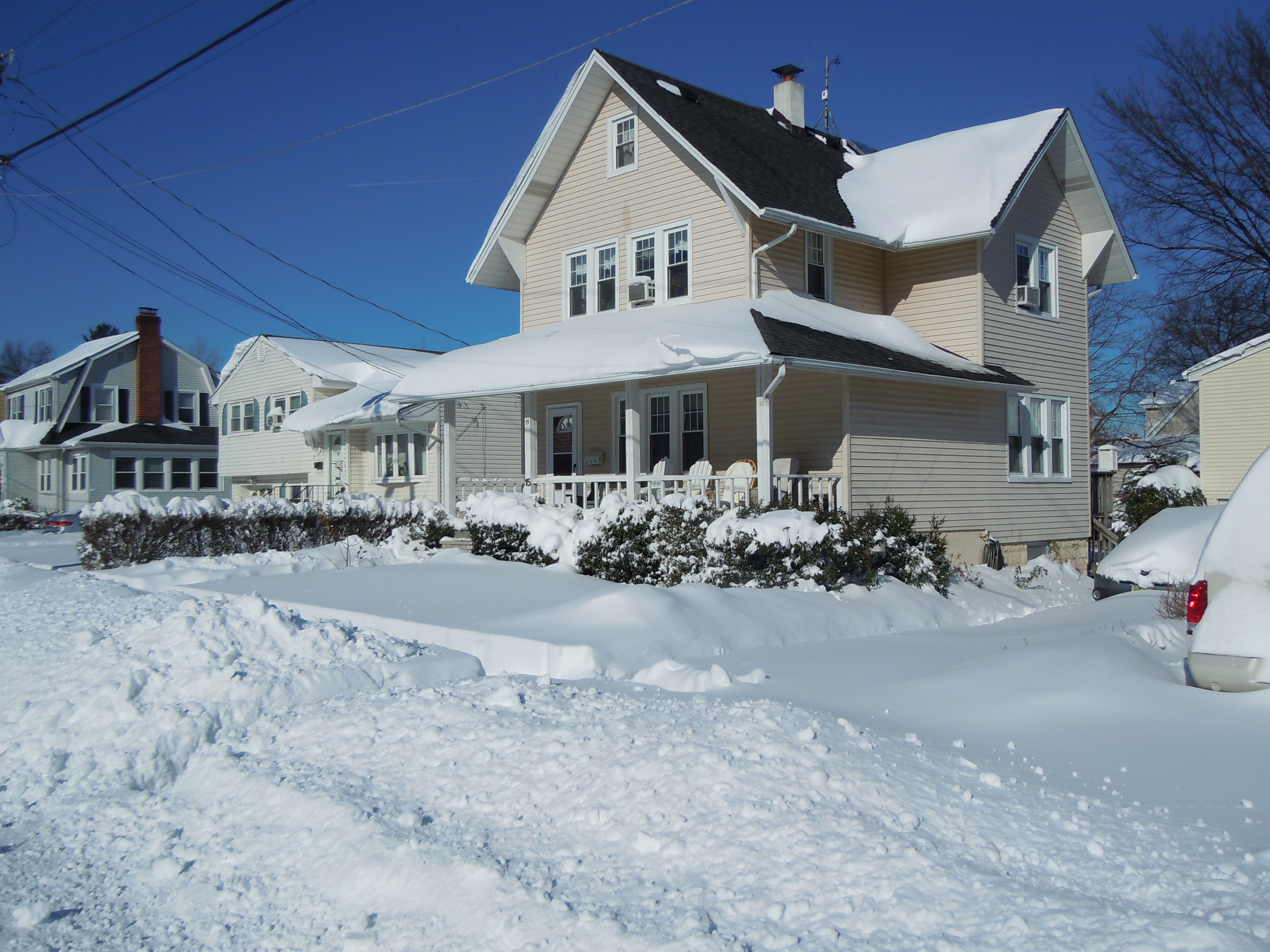 ---
Weather Summary For DECEMBER 2017
A Cold And Dry Month --- Very Cold Final Week
Temperatures were 3.1°F ( 1.7°C ) below normal here in Bergenfield, New Jersey during the past December with an average of 33.1°F ( 0.6°C ). A maximum of 61°F ( 16.1°C ) was reached on the 5th. A minimum of 9°F ( -12.8°C ) was noted on the 31st just as the New Year's celebrations were taking place. We experienced 23 mornings with minimum temperatures at or below 32°F. An arctic front arrived late on Christmas day ushering in a severe cold spell. The temperature remained below freezing for the rest of the month.

Precipitation was well below the long-term mean at 1.56" ( 39.6mm ). The last 5 months have seen precipitation coming in below average while the year ended with a precipitation deficit of almost 7 inches. We may be entering a serious dry spell. Snowfall was above average at 8.4" ( 21.4cm ). The greatest daily sum was 4.0" ( 10.2cm ) on the 9th.

Despite the cold snap during the final week, no daily low temperature marks were set for the month. A new record high of 55°F ( 12.8°C ) was established on the 19th. Snowfalls of 4.0" and 1.2" on the 9th and the 15th set new daily marks as did a peak wind gust of 31mph ( WNW ) on the 13th.

You can see a detailed monthly summary in the Data Archive tab under Monthly Summaries.
---
Previous 12 Month Temperature and Precipitation Trends in Bergenfield
TEMPERATURE
MONTH
JAN
FEB
MAR
APR
MAY
JUN
JUL
AUG
SEP
OCT
NOV
DEC
ANN
AVG
37.0
40.3
38.7
57.0
61.0
72.1
76.2
73.5
69.7
62.7
44.5
33.1
55.5
DEPT
+5.5
+6.4
-3.1
+4.4
-1.2
+1.1
+0.1
-1.1
+2.2
+6.5
-1.4
-3.1
+1.6
PRECIPITATION
MONTH
JAN
FEB
MAR
APR
MAY
JUN
JUL
AUG
SEP
OCT
NOV
DEC
ANN
SUM
3.92
2.09
4.83
3.32
6.20
2.84
5.41
3.31
1.97
3.76
1.19
1.56
40.40
DEPT
+0.44
-0.85
+0.68
-0.66
+2.00
-1.29
+1.02
-1.01
-2.26
-0.25
-2.36
-2.40
-6.94